Google Chromecast 2nd Generation
A BETTER WAY TO GET VIDEO, MUSIC, AND GAMES TO YOUR TV
Chromecast is a media streaming device that plugs into the HDMI port on your TV. Simply use your mobile device and the TV you already own to cast your favorite TV shows, movies, music, sports, games and more. Chromecast works with iPhone®, iPad®, Android phone and tablet, Mac® and Windows® laptop, and Chromebook.
Simply plugs into any HDMI port on your TV or audio/video receiver
Supports Netflix, YouTube, HBO GO, WatchESPN, Hulu Plus, Pandora, Google Play, Chrome and more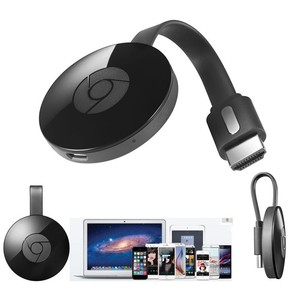 The Chromecast app is your one-stop shop for exploring what you can do on Chromecast. Easily browse featured content across your apps and search for where you can watch your favorite movies and TV shows. Plus, it's your central place for finding the latest on new apps, offers, and new features added to your Chromecast. Also, if you can find it online, you can see it on your TV. See whatever's on your laptop's Chrome browser on the big screen.
STREAM SUPER FAST
Chromecast streams content from the cloud, so you get the highest quality 1080p HD video and surround sound. With 2.4 / 5GHz WiFi support and an adaptive antenna system built in, it keeps video resolution high and buffering low.
**Works with Android phones and tablets, iPhone®, iPad®, Windows®, Mac®, and Chromebooks