Google Home
Hands-free help from the Google Assistant.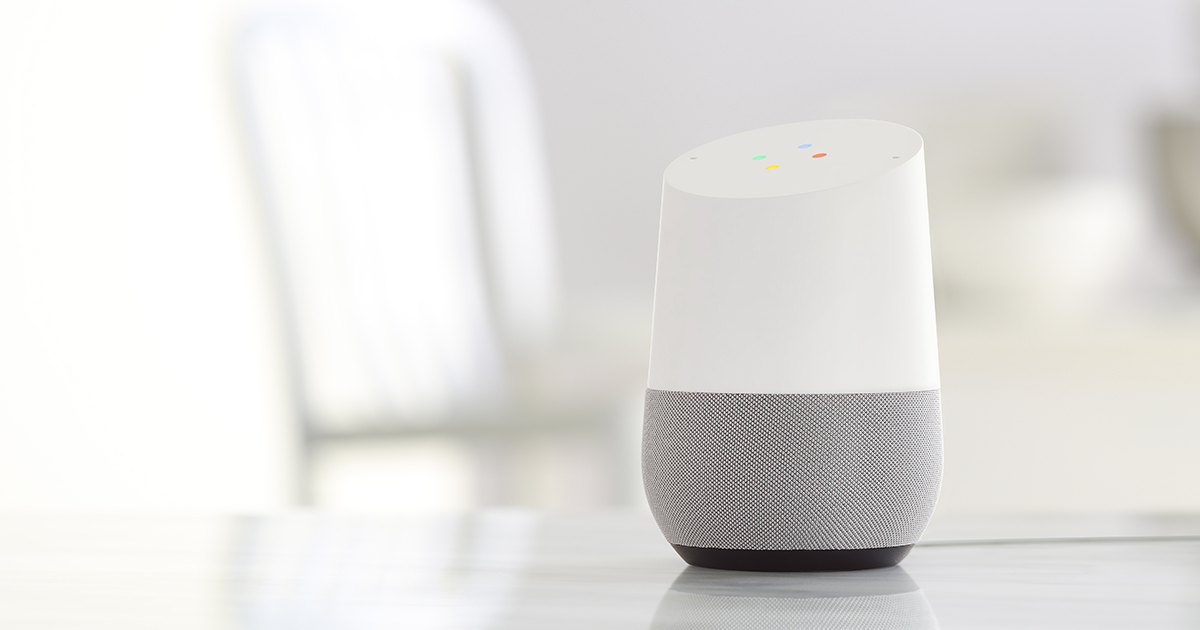 Bring simplicity into your life with the Google Home personal assistant. You can control the Google Home by voice, with the Google Home app, or using the touch surface on top of the unit. The unit is compact and sleek, and is designed to fit in with any decor.
MUSIC AT YOUR FINGERTIPS
Use your Google Home to play music, podcasts, or radio from services like Google Play Music, Spotify, YouTube Music, Pandora, and TuneIn.
GET ANSWERS QUICKLY
The Google Home is ready for your questions. Get real-time answers, including the latest on weather, traffic, finance, sports, local businesses, and more.
STAY TASK ORIENTED
With your permission, the Google Home will learn about you and get personal. It can retrieve your flight information, set alarms and timers, and tell you about the traffic on your way to work.
VOICE-CONTROL YOUR SMART DEVICES
The Google Home connects with smart devices in your home like Chromecast, Nest, and Philips Hue, so you can use your voice to set the perfect temperature or turn down the lights.
HI-FI SPEAKER
Enjoy your music with the integrated high-excursion speaker is designed to deliver crystal-clear highs and rich bass.
STYLE THAT FITS YOUR HOME
With bases separately available in seven colors, you can make the Google Home fit in anywhere in your home. Just twist and pull off the one you don't want to replace it with the base of your chosen color. (sold separately)
SIMPLE SET UP
Plug the power cable into the Google Home, plug it into a wall socket, then download and run the Google Home app on your compatible phone or tablet.
EXPLORE THE GOOGLE HOME APP
The Google Home app is your one-stop destination to discover all of the Google Home's content and features. It lets you find the latest features, tips, and offers; control settings like your default music provider or your location; and link compatible devices, such as smart lights, thermostats, and Chromecast devices.